But I am bored, so I need to waste some time...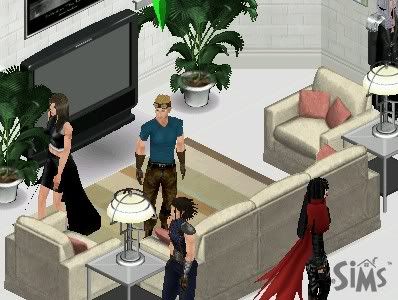 Cid, Vincent, Tifa and Zack stand around the Livin room Sofa. They seem pretty bored, but they wanted to check out the goods in their new home. 8D;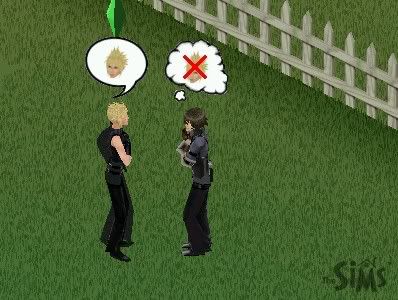 Caim came over for a visit! 8D But Cloud was rude and didn't let him inside. Instead he decided he would stand outside and talk about what hair care products he uses for half of the day. Obviously, Caim does not like this. At all.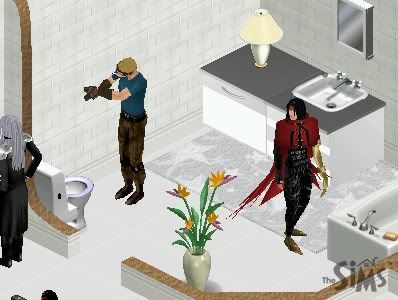 Cid wanted to use the bathroom but Vincent thought he'd run in there and spy on Cid. 8D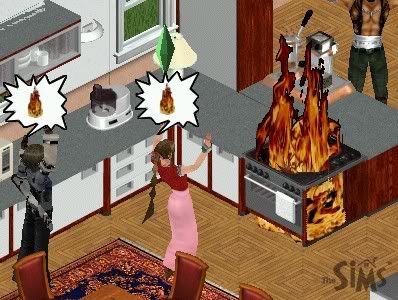 Aeris can't cook and started a fire. Caim is freaking out with here, and so is Barret in the background. >[
This image is pretty self-explanitory. >________________>;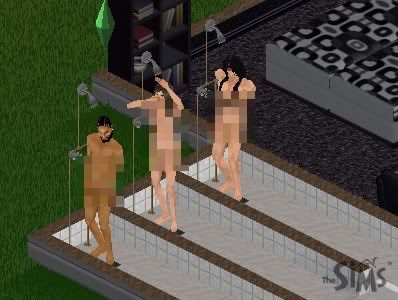 ...As is this one. 8D;;
Caim just wanted to use the bathroom IN PEACE. But Cid, what does he do? He barges in on Caim while he's using the urinal. This really pisses Caim off, so he decides to shove Cid around.
Can't a man take a bath in peace?
Cid had an accident. Now he stands in his own urine while Barret just stands there.
Cloud takes Aeris on a date. 8D
Then they cuddle.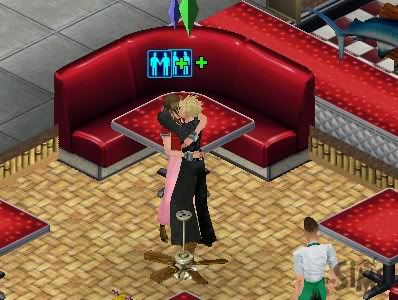 Then makeout in the center of the restaraunt.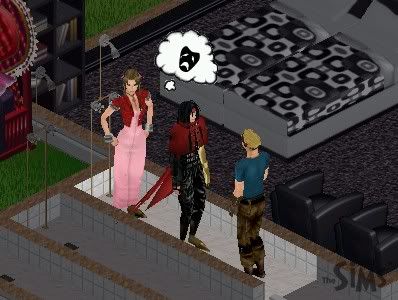 Vincent
does not!
seem happy about being sandwiched between Aeris and Cid. 8DDDDD;;
So I guess Cloud and Aeris makeout in the center of the bathroom while Cid tries to take a bath and Sephiroth tries to use the potty.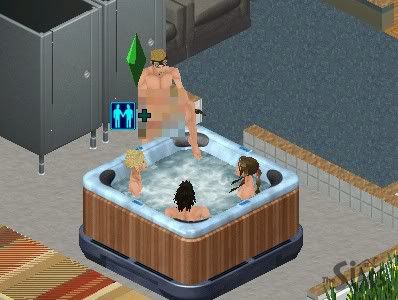 CID HIGHWIND IS A NUDIST. ... And Zack is looking directly at his crotch.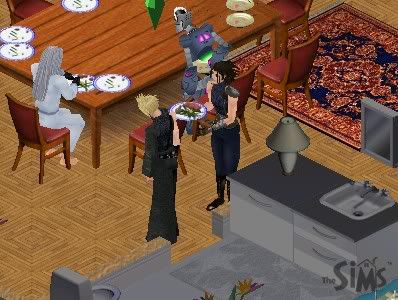 Everyone else was trying to have a nice peaceful dinner, but you know what? Cloud is asleep right in the doorway. Zack tried to get past him for five hours Sim Time, but it just wasn't happening...
Many hours later Barret tries to get out of the bathroom, but it just ain't happening.
Aww...? >__>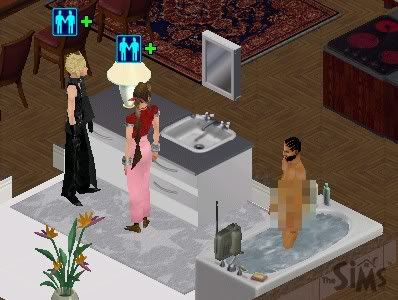 Cloud and Aeris walk into the bathroom as Barret is getting out of the bathtub.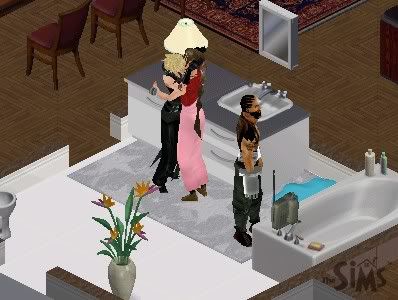 And then they makeout.
Oh noes! D: Aeris is cheating on Cloud!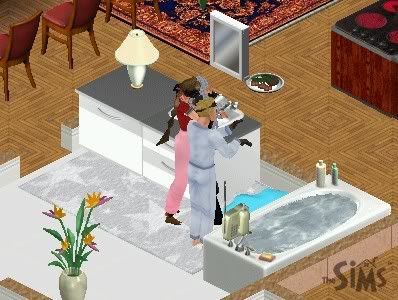 Not only is Aeris cheating on Cloud, but she's now doing it while Cid is trying to take a bath.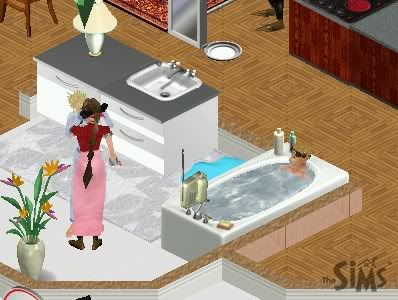 Sephiroth leaves and then Cloud enters. What does Aeris do? Why makes out with Cloud, of course! .... All while Cid is STILL in the bathtub.
Cloud is in the tub now. And I guess the bathroom is like some sort of gathering place? It seems the whole house is in there now. 8D What a popular location.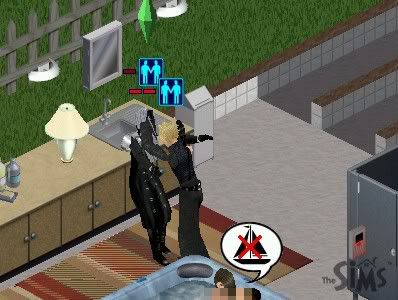 Sephiroth tries to cheat on Aeris, who is cheating on Cloud, by kissing Cloud, but Cloud won't have it! Maybe next time, Sephy...
Barret starring at a crying bear.
Sephiroth gives Barret a massage.
I have to leave in four hours and I have not slept. I figured it would be easier to stay awake until I get home at noon than to go to sleep and wake up in three hours. XDD; I am so horrible at getting up out of bed and waking up.
Current Mood:

Bored... and easily amused. 8D

Current Music:

MCR - Helena